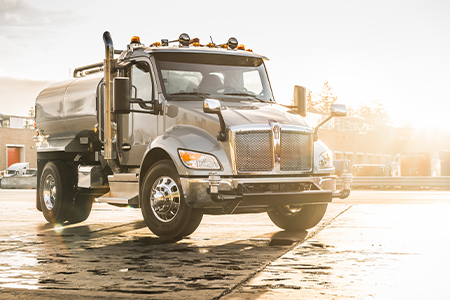 First, you need to determine which program works best for you and your business. After that you can dive into the specific options available within your narrowed scope. To help you make the right initial decision, PACCAR Financial has identified and compared the benefits of traditional financing and leasing for you below.
In addition to your specific business circumstances, which will always be the biggest factor in determining which solution is best for you, different payment options should also be considered.
Whatever your decision, PACCAR Financial offers the largest number of financing options, including fixed rate and variable rate loans and leases, skip payments, and token payments.
Please contact your local Kenworth or Peterbilt dealer or contact PACCAR Financial to discuss a custom-tailored solution that meets your needs.
Benefits of Loans vs Leases
Loans
Own equipment at maturity
Interest payments typically tax deductible
Depreciation tax benefits to user
No mileage or usage restrictions
Leases
Lower initial cash outlay
Lower monthly payment
Off-balance sheet financing
Offers
PACCAR Financial offers financing options tailor-made to meet the needs of your business.
Special Offers
Paccar financial used trucks
See what your local PACCAR Financial Used Truck Center has to fit your needs and when our next used truck auction will be held.
Visit Used Trucks
PacLease
Our customized full-service leasing packages allow you to focus on your own business, while we take care of your fleet.
Visit PacLease